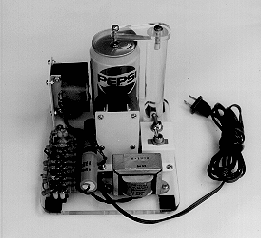 K2-48: EDDY CURRENT MOTOR
PURPOSE: To show the use of eddy currents in producing a motor with few moving parts and no electrical brushes.
DESCRIPTION: An aluminum soda can is mounted on a rotating bearing with the core of a transformer mounted adjacent to the center of the can. When 110 VAC power is connected to the transformer, eddy currents cause the can to rotate. This is sort of an interesting gizmo, and it gets a lot of attention when used as a hallway demonstration.
SUGGESTIONS:
REFERENCES: (PIRA 5K20.52)
EQUIPMENT: Eddy current motor, as photographed.
SETUP TIME: None.
---