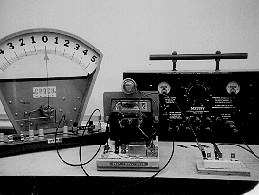 K2-23: INDUCTOR - ARCING SWITCH
PURPOSE: To demonstrate that a large amount of energy can be stored in an inductor.
DESCRIPTION: A large-current power supply (24 V) is connected in series with a large inductor (about 1 H), a meter, and a knife switch. Closing the switch starts current in the coil. When the switch is opened the EMF created by the collapsing magnetic field of the inductor causes arcing across the switch.
SUGGESTIONS: NOTE: This setup produces a large current. Please run it only long enough so that the current reaches its maximum, then open the switch.
REFERENCES: (PIRA unknown.)
EQUIPMENT: Large 24 amper power supply, 0.92 H inductor, demonstration meter with 25 ampere shunt, and knife switch.
SETUP TIME: 10 min.
---