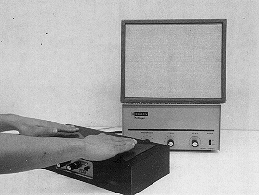 J4-51: THEREMIN
PURPOSE: To demonstrate the theremin.
DESCRIPTION: A theremin is a musical instrument, invented in the early twentieth century by German scientist Dr. Theremin, which uses capacitance to change the pitch and the loudness of the sound. It was popular in dance bands in the first half of the twentieth century. By moving your hands up and down over sensitive areas on the top of the box, the frequency and loudness of the sound can be varied to produce a musical tune.
SUGGESTIONS:
REFERENCES: (PIRA unknown.) See also the Theremin Home Page http://www.nashville.net/~theremin/
EQUIPMENT: Theremin with audio amplifier and loudspeaker.
SETUP TIME: None.
---