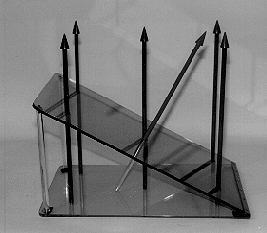 J3-14: FLUX MODEL - ELECTROSTATICS
PURPOSE: To aid visualization of flux at an angle through a surface.
DESCRIPTION: Shows red flux lines and blue plane, oblique to the flux lines, represented by the blue vector area. This should help in visualizing the dot product of E and dA.
SUGGESTIONS:
REFERENCES: (PIRA unknown.)
EQUIPMENT: Flux model.
SETUP TIME: None.
---