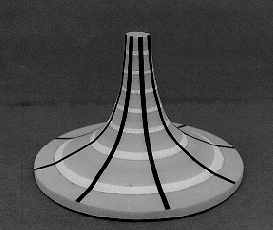 J3-11: EQUIPOTENTIALS/LINES OF FORCE - ONE CHARGE
PURPOSE: To aid in visualization of equipotentials and lines of force.
DESCRIPTION: A positive point source is located at the center of the model. The vertical height of the surface represents the potential; the white lines are equipotentials. The blue lines represent lines of force.
SUGGESTIONS:
REFERENCES: (PIRA unknown.)
EQUIPMENT: Equipotential model.
SETUP TIME: None.
---