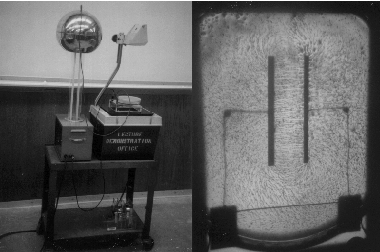 J3-03: ELECTRIC FIELD LINES
PURPOSE: To illustrate the electric field for various geometries.
DESCRIPTION: Samples are mounted in a holder on an overhead projector and charged using a piezoelectric device. The particles in the solution become polarized and align along the electric field lines. Sample geometries include oppositely charged points, plates and coaxial circles.
SUGGESTIONS:
REFERENCES: (PIRA 5B10.40) See Demonstration Reference File.
EQUIPMENT: Geometry samples with bath containing polarizing particles, piezoelectric charger, and overhead projector.
SETUP TIME: 5 min.
---