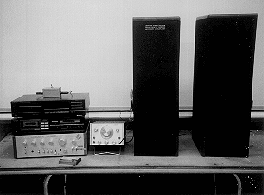 H2-27: PHASE REVERSAL BETWEEN STEREO SPEAKERS - OSCILLATOR
PURPOSE: Dramatically demonstrate interference between two identical sources.
DESCRIPTION: Two loudspeakers are connected in the monaural mode to the power amplifier. A switch box in the leads of one of thespeakers allows reversal of the phase of that speaker.
A nice experiment shows the relation of phase to physical position. Set the speakers to monaural and play an 80 Hz tone into the two speakers, then reverse the phase to reduce the sound to virtually nothing. Uncoil the wire from the back of one speaker and move the speaker 12 or 15 feet across the front of the room; the loud bass tone returns! The waves from the two speakers are no longer out of phase.
SUGGESTIONS: See also Demonstration H2-26: PHASE REVERSAL BETWEEN STEREO SPEAKERS.
REFERENCES: (PIRA unavailable.)
EQUIPMENT: Audio cart with oscillator, as pictured.
SETUP TIME: None.
---