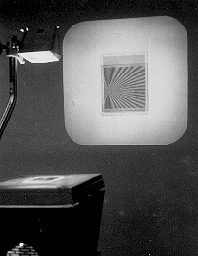 H2-23: INTERFERENCE - KLINGER TRANSPARENT SLIDES
PURPOSE: An optical analog to the interference pattern from two identical sound sources.
DESCRIPTION: Small transparencies consisting of a series of equally-spaced concentric rings are superimposed on each other. The interference pattern from these two identical sources can be observed as the distance between the two sources is var ied.
SUGGESTIONS:
REFERENCES: (PIRA 3B50.40) See also H2-22: INTERFERENCE - TRANSPARENCIES.
EQUIPMENT: Small plastic Klinger transparent slides, overhead projector.
SETUP TIME: None.
---