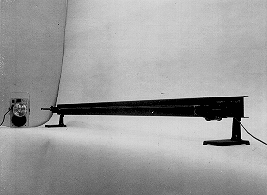 G3-53: STANDING WAVES ON A STRING
PURPOSE: To demonstrate standing waves in a thin string.
DESCRIPTION: The string is driven by a 60 Hz vibrator with the number of standing wave loops determined by adjusting the tension. Black painted channel is the background for improved visibility. Small paper tabs can be hung on the string to verify lack of motion at the nodal points and/or motion at the antinodes. A stroboscope can be used to slow down the motion for detailed study.
SUGGESTIONS:
REFERENCES: (PIRA 3B22.14)
EQUIPMENT: Mounted string vibration assembly, stroboscope.
SETUP TIME: None.
---