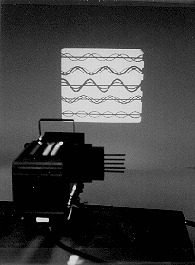 G3-41: WAVE MODELS - PROJECTION
PURPOSE: To demonstrate standing waves, travelling waves, and superposition of waves.
DESCRIPTION: The wave models are projected and individual members rotated to show particular wave characteristics. Models are: (1) identical waves moving in opposite directions, (2) sum of waves in (1), (3) traveling wave and same with twice the amplitude, (4) identical waves 90 degrees out of phase and their sum, (5) identical waves 180 degrees out of phase.
SUGGESTIONS:
REFERENCES: (PIRA 3B22.90)
EQUIPMENT: Projection wave model in lantern slide projector, as photographed.
SETUP TIME: None.
---