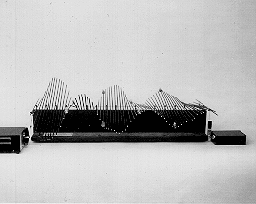 G3-09: SHIVE WAVE MACHINE - FREQUENCY FILTERING
PURPOSE: To demonstrate frequency filtering through a "filter" consisting of four weighted crossarms and the interference from partial reflections they produce.
DESCRIPTION: Four sets of weighted small weights are positioned on crossarms at equal intervals along the Shive machine, with the generator at one end and the dashpot at the other end. When the frequency of the generator is adjusted so that the wavelength is twice the spacing of the weights the reflected wave will be minimized and the transmitted wave maximized.
SUGGESTIONS:
REFERENCES: (PIRA 3B22.30)See Demonstration Reference File for further information and experiments.
EQUIPMENT: Shive Wave Machine, 8 crossarm weights, wave generator, dashpot.
SETUP TIME: None.
---