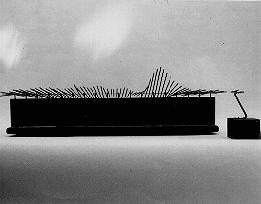 G3-03: SHIVE WAVE MACHINE - REFLECTION OF PULSES
PURPOSE: To demonstrate reflection of pulses from fixed ends and free ends.
DESCRIPTION: A pulse generated at one end reflects off the opposite end. The reflecting end can either be free (left alone) or fixed (connected to a clamp).
SUGGESTIONS:
REFERENCES: (PIRA 3B22.30)See Demonstration Reference File for further information and experiments.
EQUIPMENT: Shive Wave Machine with end clamp.
SETUP TIME: None.
---