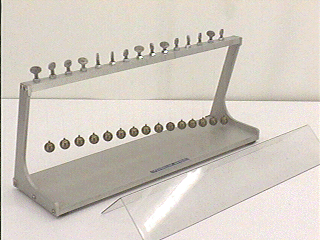 G1-82: PENDULUM WAVES
PURPOSE: To create waves in a very dramatic way using a series of fifteen carefully adjusted independent pendula.
DESCRIPTION: After the pendula are started into oscillation with the same phase, they pass through a series of various standing wave and traveling wave patterns, finally returning to their initial mode, in which they were all in phase. This is a GREAT demonstration - takes about one minute.
SUGGESTIONS: Practice starting it so that the pendula continue to swing transverse to the support bar and do not hit each other.
REFERENCES: (PIRA 3B10.75) See Demonstration Reference File for article on our apparatus.
EQUIPMENT: As photographed.
SETUP TIME: None.
---