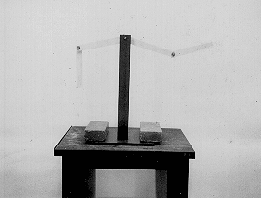 G1-60: CHAOS - TWO DOUBLE PHYSICAL PENDULA
PURPOSE: To illustrate the modern concept of chaos.
DESCRIPTION: The two pendula are started into apparently identical oscillations, but their motion soon diverges. No matter how closely the motions of the two pendula are started, they eventually must undergo virtually total divergence. This illustrates the modern meaning of "chaos."
SUGGESTIONS: Keep hands away after starting.
REFERENCES: (PIRA 3A95.50) See Demonstration Reference File for articles describing our apparatus as well as the theory of this chaotic system.
EQUIPMENT: Double physical pendula on base with lead bricks.
SETUP TIME: None.
---