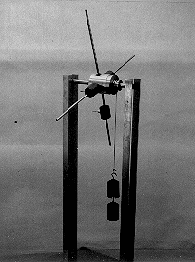 G1-58: LOADED PENDULUM
PURPOSE: Analog to the longitudinal motion of a particle in a particle accelerator driven by a sinusoidal accelerating potential.
DESCRIPTION: The position of the pendulum bob, displaced from the vertical by the hanging weights, represents the phase of a particle being accelerated in a particle accelerator. The sinusoidal accelerating voltage creates oscillations of the particle about its equilibrium phase. The phase of the accelerating particle oscillates about the equilibrium phase, as does the pendulum.
SUGGESTIONS:
REFERENCES: (PIRA unavailable.)
EQUIPMENT: Oberbeck cross with 2 kG masses.
SETUP TIME: None.
---