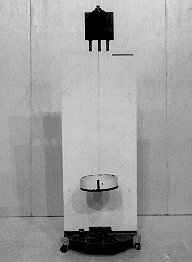 G1-42: TORSIONAL PENDULUM - LARGE
PURPOSE: To demonstrate torsional SHM and to show the effect of moment of inertia on the period.
DESCRIPTION: This large device executes torsional SHM on a heavy wire. Adding a cylindrical shell to the flat base (as in the photograph) increases the moment of inertia and very noticeably increases the period.
SUGGESTIONS:
REFERENCES: (PIRA 3A10.30)
EQUIPMENT: Large torsional pendulum, as photographed.
SETUP TIME: None.
---