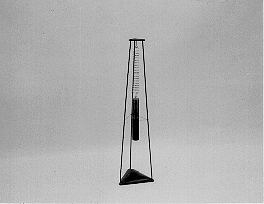 G1-35: MASS ON SPRING - EFFICIENT MODEL
PURPOSE: To illustrate the motion of a mass on a spring.
DESCRIPTION: Just lift mass and release to start oscillations. This one is relatively efficient, so its vibraations last a long time.
SUGGESTIONS:
REFERENCES: (PIRA 3A20.10)
EQUIPMENT: Mounted mass on spring.
SETUP TIME: None.
---