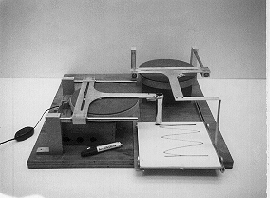 G1-19: CARTESIAN COORDINATES OF CIRCULAR MOTION
PURPOSE: Demonstrate that the cartesian coordinates of circular motion are sines/cosines.
DESCRIPTION: As the turntable rotates a peg on the turntable passing through a slot moves a pen back and forth defining each component of the motion. If you pull the paper past the pen at a constant speed, the x or y component of the motion of the peg is plotted as a function of time.
SUGGESTIONS:
REFERENCES: (PIRA unavailable.)
EQUIPMENT: Turntable device, paper and pen.
SETUP TIME: 5 min.
---