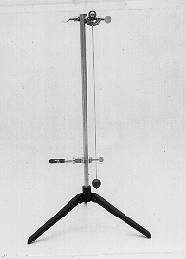 G1-17: PENDULUM WITH LARGE-ANGLE OSCILLATION - PORTABLE
PURPOSE: To illustrate large-angle pendular oscillations and the 360 degree pendulum.
DESCRIPTION: The motion of a small-angle oscillation can be compared with large-angle oscillations. The motion of a 360 degree pendulum with just enough energy to execute complete circles can be observed or compared with calculations.
SUGGESTIONS:
REFERENCES: (PIRA 3A95.33)
EQUIPMENT: Small physical pendulum on folding stand with travel clamp.
SETUP TIME: None.
---