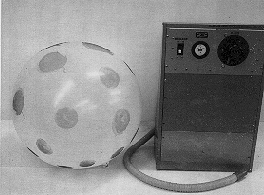 E2-63: EXPANDING UNIVERSE
PURPOSE: To demonstrate the concept of the expansion of the universe.
DESCRIPTION: A large balloon is painted with red spots representing galaxies in the universe. Blow air into the balloon with an air blower to expand the universe.
SUGGESTIONS:
REFERENCES: (PIRA 8C10.15)
EQUIPMENT: Weather balloon with spots, air track blower.
SETUP TIME: None.
---