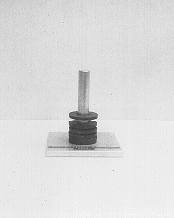 E2-51: GRAVITATIONAL COLLAPSE - MODEL
PURPOSE: To model gravitational collapse.
DESCRIPTION: Ring magnets are placed around the vertical rod with similar poles adjacent to each other. As more magnets are piled on, the weight of the magnets overcomes the opposing gravitational force, eventually causing "gravitational collapse."
SUGGESTIONS:
REFERENCES: (PIRA unavailable.)
EQUIPMENT: Mounted post with circular magnets.
SETUP TIME: None.
---