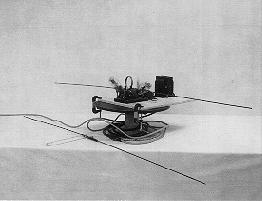 E2-49: PULSAR MODEL - RADIOWAVES
PURPOSE: To show the changing field pattern from a rotating dipole.
DESCRIPTION: Position antenna so that the electric field from the transmitter picked up by the receiving antenna lights the lamp on the antenna. Then rotate the stool, causing the light to flash on and off, dependent on the dipole radiation pattern of the antenna.
SUGGESTIONS: Wrap the extension cord 6 or 7 times around the base before starting to rotate.
REFERENCES: (PIRA 8B10.65)
EQUIPMENT: Radiowave transmitter and receiver, rotating stool, clamps and extension cord.
SETUP TIME: 5 min.
---