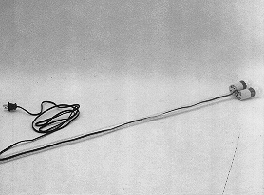 E2-45: ECLIPSING BINARY STAR MODEL - LIGHTS
PURPOSE: To show how we view a rotating binary star.
DESCRIPTION: The two bulbs, one with less intensity than the other, are rotated about the axis of the stick. This shows the intensity variation observed for a binary star with two stars of differing brightness.
SUGGESTIONS:
REFERENCES: (PIRA 8B10.10)
EQUIPMENT: Two 7.5 watt bulbs, one with series diode to decrease its brightness, mounted on pole with power cord.
SETUP TIME: None.
---