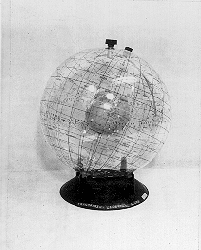 E2-41: TRANSPARENT CELESTIAL GLOBE
PURPOSE: To illustrate some relationships between the earth, the sun, and certain heavenly bodies.
DESCRIPTION: A transparent globe designed to teach earth-space relationships at the beginning level of astronomy, the celestial globe features a 4" diameter terrestrial globe mounted with a 12" diameter star globe, plus adjustable sun model. Bo th globes and sun may be easily set to show the positions of the stars and planets for any time and place.
SUGGESTIONS:
REFERENCES: (PIRA 8A10.80) See Demonstration Reference File for "Instructional Guide and Use Manual" from the manufacturer.
EQUIPMENT: Transparent Celestial Globe.
SETUP TIME: None.
---