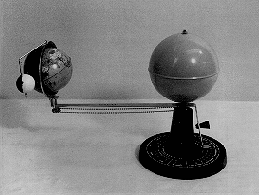 E2-34: BASIC PLANETARIUM
PURPOSE: To demonstrate the sun-earth-moon spatial relationship and related concepts..
DESCRIPTION: This device illustrates how the earth's rotation causes day and night, how the earth's revolution around the sun and the tilt of its axis causes the seasons, and why the moon has phases.
SUGGESTIONS:
REFERENCES: (PIRA 8A10.00) See the Demonstration Reference File for a complete description of this device.
EQUIPMENT: As photographed.
SETUP TIME: None.
---