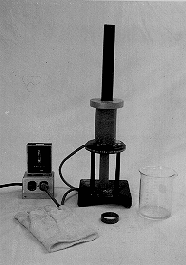 E2-11: SOLAR PLASMA MODEL
PURPOSE: Mass driver and ring heater show coronal holes and coronal heating.
DESCRIPTION: Hold down the ring to simulate confined plasma in a solar coronal loop; it will heat up much as does the solar plasma. Let the ring go and it will "shoot" away from the AC fields much like the plasma shoots out of coronal hole.
SUGGESTIONS:
REFERENCES: (PIRA unavailable.)
EQUIPMENT: Induction coil with switch and copper ring.
SETUP TIME: None.
---