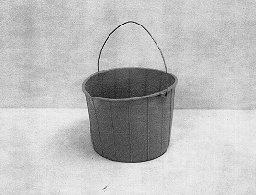 D1-41: ROTATING WATER BUCKET
PURPOSE: To illustrate dramatically centripetal force and centrifugal reaction.
DESCRIPTION: Put some water in the bucket and rotate the bucket in a vertical circle over your head. The centripetal force provided by your arm keeps the water bucket moving in a circle, while the centrifugal reaction keeps the water in the bottom of the bucket, as long as the rotational velocity is sufficient.
SUGGESTIONS:
REFERENCES: (PIRA 1D50.40) See also D1-42: ROTATING WATER BUCKET WITH SPONGE, a trick version of this demonstration.
EQUIPMENT: Bucket with water.
SETUP TIME: None.
---