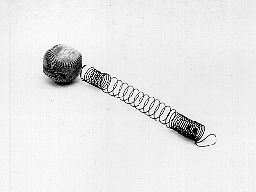 D1-34: ROTATING MASS ON SPRING
PURPOSE: To illustrate centripetal force.
DESCRIPTION: When the ball is rotated around your head in a horizontal circle, the spring extends. This demonstrates that the spring is under tension, showing that a force is required to move a mass in a circle. Rotating faster requires a greater centripetal force, as observed by the greater spring extension.
SUGGESTIONS:
REFERENCES: (PIRA unavailable.)
EQUIPMENT: Mass on spring, as photographed.
SETUP TIME: None.
---