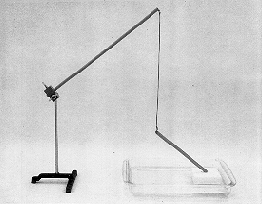 C6-21: SUSPENDED ROD ON WATER
PURPOSE: An elementary problem involving horizontal friction.
DESCRIPTION: The top end of a rod is supported by a string connected to a fixed point, with the bottom end floating freely on a small piece of styrofoam on the surface of the water. Which of the three drawings below best portrays the equilibriu m position of the system: (a), (b), or (c).

SUGGESTIONS: Ask your class to vote on the result before doing the experiment.
REFERENCES: (PIRA unavailable.)
EQUIPMENT: String and stick assembled on stand, styrofoam chip, and pan of water, as photographed.
SETUP TIME: 5 min.
---