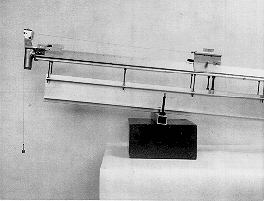 C6-05: AIR TRACK - INCLINED PLANE FRICTION
PURPOSE: To show that the force of friction depends upon the conditions of the surfaces in contact.
DESCRIPTION: With no air pressure on the tilted air track and an appropriate counterweight, the glider will be held in place by friction. Start the blower and, if the counterweight is sufficient, the glider will move up the incline.
SUGGESTIONS:
REFERENCES: (PIRA unavailable.)
EQUIPMENT: Air track tilted by box, small glider with 10 gram counterweight.
SETUP TIME: 5 min.
---