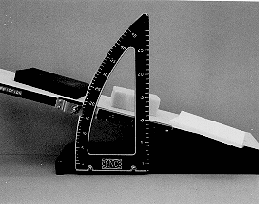 C6-03: INCLINED PLANE - FRICTION WITH THREE BLOCKS
PURPOSE: To illustrate different coefficients of friction.
DESCRIPTION: As the inclined plane angle is steadily increased, the three blocks begin to slide in the following order: (1) teflon, (2) styrofoam, and (3) rubber.
SUGGESTIONS:
REFERENCES: (PIRA 1K20.35)
EQUIPMENT: Inclined plane with rubber, styrofoam, and teflon blocks.
SETUP TIME: None.
---