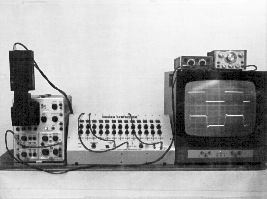 A2-62: GIBBS PHENOMENON AND CAUSALITY
PURPOSE: To demonstrate Gibbs' phenomenon.
DESCRIPTION: Putting a square wave signal from the Wavetek through a low-pass filter removes higher harmonics and causes ripples on the leading edge only of the square pulse, as seen on the photograph. That the trailing edge re mains unaffected seems to indicate that this effect is due to causality; if it were the Gibbs phenomenon, both the leading and trailing edges (in fact, the entire flat top) would be affected. Use the Fourier synthesizer to demonstrate the wave shape with a limited number of harmonics.
SUGGESTIONS:
REFERENCES: (PIRA unavailable.) See Demonstration Reference File for additional background information.
EQUIPMENT: Scope cart with T and dual-trace plug-ins, Fourier synthesizer, Wavetek generator, and Krohn-Hite active filter.
SETUP TIME: 10 min.
---