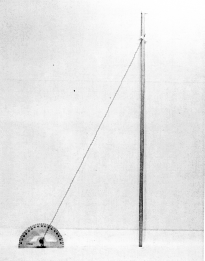 A2-32: HEIGHT MEASUREMENT BY TRIGONOMETRY
PURPOSE: To determine the height of a student using trigonometry.
DESCRIPTION: Determine the height h of a student by measuring the distance x of the student from the protractor and the angle a of the top of the student from the floor: h = x tan a. Compare the experimental value with a direct measurement using the meter stick.
SUGGESTIONS: Keep the angle large so that an accurate measurement will be required.
REFERENCES: (PIRA unavailable.)
EQUIPMENT: Two-meter cord, protractor, 2-meter stick, student volunteer.
SETUP TIME: 5 min.
---