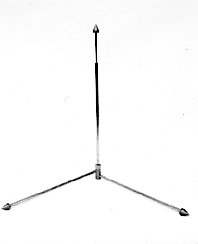 A2-23: VECTOR PRODUCT
PURPOSE: To illustrate some properties of the vector product.
DESCRIPTION: The directions of the two vectors A and B, along with their vector product AxB are illustrated using the model. The cross product can be adjusted in length, but not reduced to zero.
SUGGESTIONS:
REFERENCES: (PIRA 1A40.75)
EQUIPMENT: Vector product model, as photographed.
SETUP TIME: None.
---