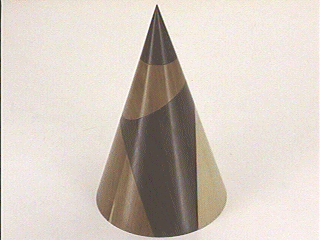 A2-14: DISSECTIBLE CONE
PURPOSE: To illustrate conic sections.
DESCRIPTION: The wooden cone has four separable parts. Dissecting the cone yields cross sections with differing orientation with respect to the axis of the cone: the circle, the ellipse, the parabola, and the hyperbola.
SUGGESTIONS:
REFERENCES: (PIRA 1L20.40)
EQUIPMENT: Dissectible cone, as photographed.
SETUP TIME: None.
---